with the big picture in mind!
Even though Heinrichsthal cheeses are almost always found in blue packaging, we also think and act green. Regional partnerships are just as important to us as promoting environmental awareness. We are already flying the green flag in many areas and look forward to further actions that prove our mission.
The White Gold from Saxony
In order to produce our royal cheese specialities, the milk is of course crucial as a basis. For us, sustainability begins with a good relationship of trust with the dairy farmers. Heinrichsthaler Milchwerke GmbH obtains most of the milk for cheese production from family-run farms in the region, some of which have been in existence for generations. This not only shortens unnecessary transport routes, the fresh quality is maintained and the farmers from Saxony are also helped.
To ensure that every dairy farmer meets the same conditions, it is particularly important for us that every supplier represents the values that are important to us. Quality, hygiene and animal welfare, for example, play a fundamental role. After all, happy cows guarantee delicious cheese. This is made clear not least by the many DLG awards we have received, for example for outstanding raw milk or long-standing product quality.
Growing with Heinrichsthaler
At Heinrichsthaler Milchwerke, even the youngest children are a top priority. After all, it is important to give children an idea of what good nutrition and environmental awareness mean at a young age. To bring this closer to the children, we are planning a number of campaigns. For Children's Day, for example, we distributed herb gardens to day-care centres in the area. The idea is that the little gardeners grow radishes, salad rocket, cress and red radish. They nurture and care for the plants – and can then proudly harvest them. And to make it a super-healthy breakfast, we have added some delicious cheese.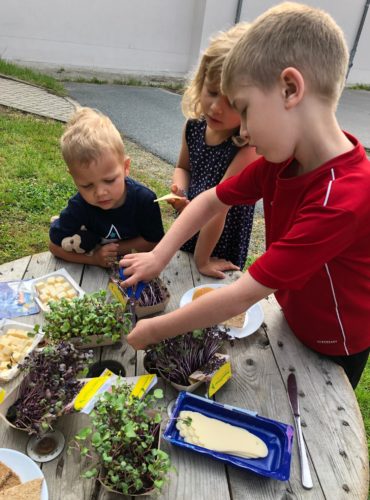 Heinrichsthaler cheese contains only the best from nature. This does not only refer to the milk, but starts with the origin. In 2020 it was 140 years of Heinrichsthaler plus 110 years of the Falkenhain cheese factory. Heinrichsthaler Milchwerke GmbH and its subsidiary celebrated 250 years of cheese tradition in Saxony. In keeping with the anniversary, the focus was once again on the origins: Trees and insects. Together with the company's shareholders, 250 trees of various kinds were planted, including apple, pear and cherry trees, wild fruit and conifers, i.e. those that have a special significance for insects. At the same time, three bee colonies were established in the immediate vicinity on the company premises, which are looked after and cared for by an employee.
Uwe Lammeck, Managing Director of Heinrichsthaler Milchwerke GmbH: "They say that one tree alone provides enough air to breathe for 50 people. And bees are also of immense importance for our ecosystem, especially in plant and fruit cultivation. With these actions we want to make a contribution in our environment."